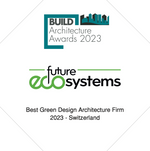 Best Green Design Architecture
Firm 2023 – Switzerland
BUILD Architecture Awards 2023
Future ECOsystems is a forward-thinking company that is revolutionising green design architecture in Switzerland. The firm has been widely recognised for its achievements, and we spoke to Joshua Egerton to find out more about the company and what has contributed to its success.
In the bustling world of architecture and design, one firm stands out for its exceptional commitment to environmental sustainability and nature-based solutions. Future ECOsystems, the Best Green Design Architecture Firm of 2023 in Switzerland, has been revolutionising how we incorporate greenery into our built environment. The company offers a wide range of services that promote biodiversity, improve air quality, and enhance the well-being of individuals and the planet. From living walls to green roofs and office planting solutions, Future ECOsystems is at the forefront of the green design movement, setting new standards for eco-friendly architecture.
Always thinking of the planet, Future ECOsystems is dedicated to providing nature-based solutions to diverse clients, including architects, developers, and the general public. Its turn-key services encompass the planning, installing, and maintaining of living walls for interior and exterior spaces. With an emphasis on environmental consulting, the firm assists professionals in seamlessly incorporating living walls and green roofing into their projects. 
By integrating greenery and solar panels, Future ECOsystems optimises energy efficiency and contributes to cooling the surrounding areas. Its commitment to using only natural plants and materials ensures its offerings are 100% recyclable, making it a sustainable choice for environmentally-conscious clients. 
In its most recent project, Future ECOsystems faced the challenge of transforming an ophthalmologist's waiting room into a lush, green oasis. The primary obstacle was helping the client understand living walls' long-term benefits and maintenance requirements. By emphasising the necessity of regular upkeep and disease prevention, the firm successfully conveyed the value of green walls for businesses and homes. Overcoming logistical challenges, such as limited technical space and reinforcing internal walls, Future ECOsystems' team demonstrated their adaptability and expertise. With a meticulous approach to every project, they ensure that each undertaking receives the attention and care needed to flourish.
Future ECOsystems sets itself apart in a highly competitive industry through its core commitment to the environment. The team has a primary goal to improve biodiversity and social well-being, with aesthetics being a by-product of their eco-conscious practices. Rather than focusing solely on product offerings, the firm chooses the best nature-based solution for each project.
What's more, Future ECOsystems educates and empowers architects, developers, and planners to embrace sustainable design solutions through informative presentations and collaborations with professionals. The firm leaves an indelible mark on the industry by showcasing its systems' proven longevity and environmental benefits.
As we enter the future, Future ECOsystems is poised to play a pivotal role in the environmental market. The urgency to enhance biodiversity and preserve the planet has become a global imperative, and the firm is ready to assist those who share this vision. Its diverse range of products caters to various needs, from expansive exterior living walls to green roofs for bus stops.
With an emphasis on office planting solutions and expanding its e-commerce presence, Future ECOsystems aims to enable individuals to contribute to biodiversity restoration on a personal level. In collaboration with professionals, the firm seeks to promote sustainable architecture further and leave a lasting positive impact on the environment.
Thanks to its dedication, Future ECOsystems has carved out a unique place in the architectural landscape of Switzerland. Its dedication to nature-based solutions, impeccable craftsmanship, and dedication to environmental sustainability makes it a true leader in green design architecture. By providing turn-key solutions, offering environmental consulting, and delivering innovative projects, the firm inspires architects, developers, and individuals to create a greener, more sustainable future.
Company Name: Future ECOsystems Sàrl
Contact Name: Joshua Egerton
Web Address: futureecosystems.com
Contact Email josh@futureecosystems.com